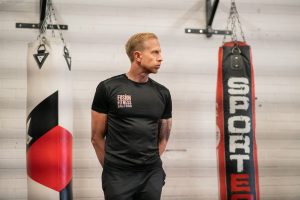 About Me
Fusion Fitness delivers an exercise approach which is the fusion of many forms of training which I have personally experienced over the years including, Olympic Lifting, Body Building, Triathlon, MMA, Boxing, Cross fit, and distance running.
The most important thing about Fusion Fitness is the variety of exercises you'll learn whilst being coached to perform them well. Technique is everything.
Any exercise session should be fun, engaging and very importantly results driven. And what i see nowadays are the same sessions repeated again and again. Fusion Fitness eradicates this concept.
Based only a stone throw away from media city, I am a fitness professional and nutrition advisor, also qualified within the GP referral scheme for medical disabilities and all conditions related, plus training clients pre and post natal.
I have worked in and been around Gymnasiums for over 20 yrs. My aim is to meet your fitness goals within the comfort of my purpose designed Studio. I teach simple techniques, underpinning dietary and fitness information, which will lay the foundations for the future of your well being, health goals and ambitions.
SHOW ME COMMITMENT AND I'LL SHOW YOU RESULTS
What's needed from you
Firstly a PMA (Positive mental attitude)
It's going to be tough, I'm not going to lie to you, but it will be fun and rewarding, but I guarantee if you give it your best shot and trust the supplied info YOU WILL HIT YOUR GOALS.
Being realistic about your goals is paramount to your outcome
TO ARRANGE THE INTRO OFFER (£10 FOR 3 SESSIONS) JUST FILL OUT YOUR DETAILS BELOW AND CLICK SEND. IT'S THAT EASY.